Shopping Cart
Your Cart is Empty
There was an error with PayPal
Click here to try again
Thank you for your business!
You should be receiving an order confirmation from Paypal shortly.
Exit Shopping Cart
Unique, artistic gift bag and bottle tags, favors and ornaments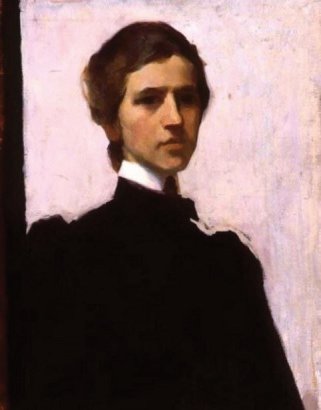 Violet Oakley (1874-1961) is the final member of the Red Rose Girls.  Her self portrait is to the left. (c.1900)  Unlike her cohorts, Oakley was born into an artistic family and was always encouraged to pursue a life of art.With two grandfathers that were members of the National Academy of Design, she described her interest in illustration as "hereditary and chronic".  She studied first in New York, then Europe but returned to study illustration with Howard Pyle at the Drexel Institute for Illustration.  
She was a popular illustrator for magazines and periodicals such as Collier's, St.Nicholas Magazine and Woman's Home Companion.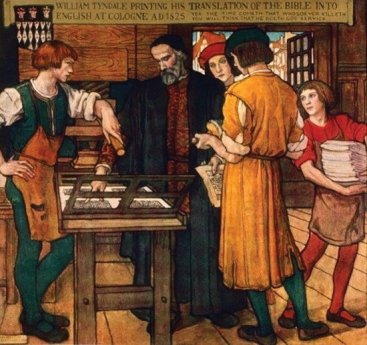 A depiction of Tynsdale printing his translation of the Bible into English...at great risk no doubt.
On The advice and recommendation of Howard Pyle, Oakley received many mural commissions, the most famous of which is In the Pennsylvania State Capitol building for the Governors Grand Reception Room which she titled "The Founding of the State of Liberty Spiritual".  In the 14 reception room murals Oakley depicts the story of William Penn and the founding of Pennsylvania.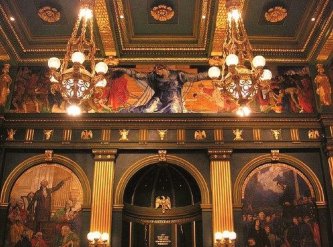 When Edwin Austin Abbey died in 1911, Oakley was offered the job of creating the murals for the Senate and Supreme Court Chambers, a 16 year project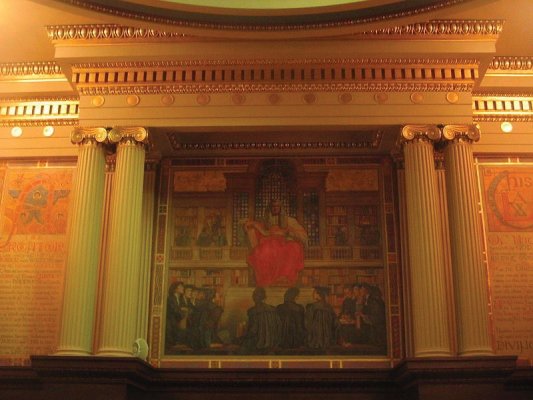 Oakley was raised Episcopalian, embraced the political beliefs of the Quakers and became a Christian Scientist after a significant healing of asthma.  Her insistence on adherence to Victorian aesthetics on the cusp of Modernism led to the decline of her reputation by the middle of the 20th Century.
She lived with Henrietta Cozens, the fourth in the Red Rose group for many years.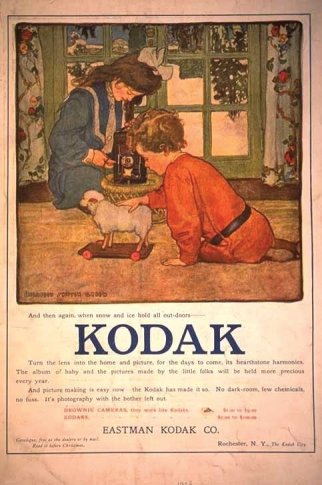 Elizabeth Shippen Green (1871-1954) was born in Philadelphia and encouraged in her artistic endeavors by her father who was an artist/correspondent during the Civil War. She studied with several painters and in 1894 found herself in Howard Pyle's class where she met Violet Oakley and Jessie Willcox Smith.  
She published her first drawing the in Philadelphia Times at the age of 18 while still studying with Pyle. While a student, she did pen and ink fashion drawings and other illustrations for children's books.  
For 14 years Green shared living and working space with the other Red Rose Girls, Jessie Willcox Smith and Violet Oakley.  She found the communal arrangement conducive to her artistic processes, with large living and work space, the encouragement of other artists and finding inspiration in the surrounding gardens and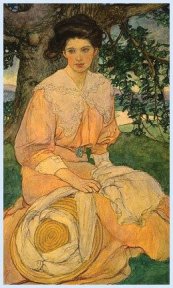 countryside.
Green's work has sometimes been compared to that of Mary Cassatt (1844-1926). In The Mistress of the house, a series of paintings commissioned by Harpers, she depicts a romanticized version of domestic life, featuring a beautiful young mother. However, during her career with Harpers, she was also called on to depict a number of different moods with characters in drarmatic situations.
Like her contemporaries, Green worked for all the major periodicals and illustrated numerous books.  Of the three Red Rose Girls, perhaps she was the least recognized in her own life time.  Perhaps this was due to the fact that she could not be easily categorized   Smith was known mostly for her depiction of children, Oakley for her murals and stained glass.  But Green was probably the most talented of the three.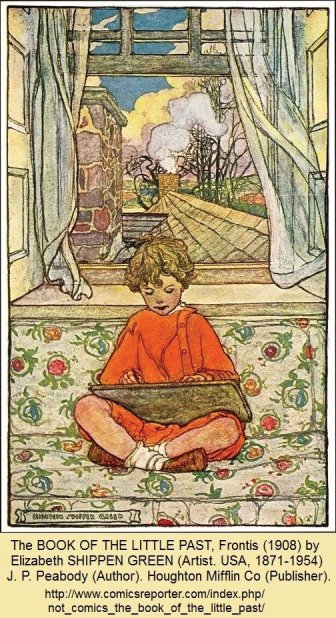 Green was the only one of the three illustrators to marry.
In 1911 she married Huger Elliott, a professor of architecture.  The couple moved several times for his teaching career but she continued to illustrate for Harpers as late as 1924. Following Elliot's death Green returned to Philadelphia to live near her old friends.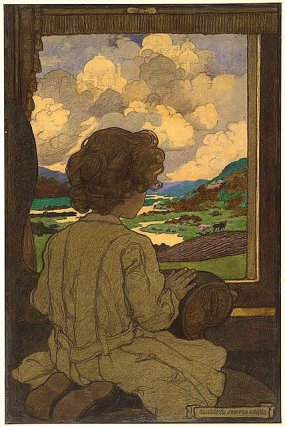 The next two illustrations are from "The Journey".  The boy in the rail car is subdued, while the colors outside the window are more vivid, creating an interesting perspective.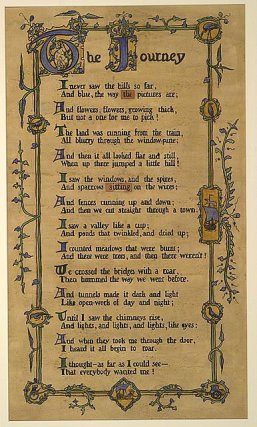 The verse was also illustrated by Green.
Jessie Willcox Smith (1883-1935) is probably my favorite artist of the Golden Age of Illustration. Her work epitomized the home life of the late Victorian era. During the 44 years that she was artistically active, she illustrated over 60 books, 250 periodicals and over 200 covers for
Good Housekeeping,
 as well as calenders, posters and prints.  
Smith was born on Philadelphia and at 16 was sent to Cincinnati to live with relatives and to attend school.  She started out her career as a kindergarten teacher.  While chaperon on a trip to an art class, she picked up a pencil and drew the object that was in front of her.  Eventually, she moved back to Philadelphia to study art and ended up in Howard Pyle's class. In a 1917 interview in Good Housekeeping,  she said of Pyle:  He seemed to wipe away all the cobwebs and confusion that so beset the path of the art student, and with his inspiration and practical help I was soon in the full tide of book illustration.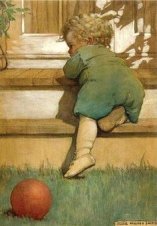 It was in Pyle's class that she met the other Red Rose Girls, Elizabeth Shippen Green and Violet Oakley with whom she lived for the next 11 years until Green married and Smith found her own home/studio. (Henrietta Cozens and Violet Oakley remained together until their death).
Smith spent most of her career illustrating children.  She never married and had no children of her own.  Much has been made of the communal life style of the Red Rose Girls.  Is it relevant? Probably not.  Smith once said "A women's sphere is as sharply defined as a man's.  If she elects to be a housewife and mother-that is her sphere and no other. Circumstances may, but volition should not, lead her from it.  If, on the other hand, she elects to go into business or the arts, she must sacrifice motherhood in order to fill successfully her chosen sphere".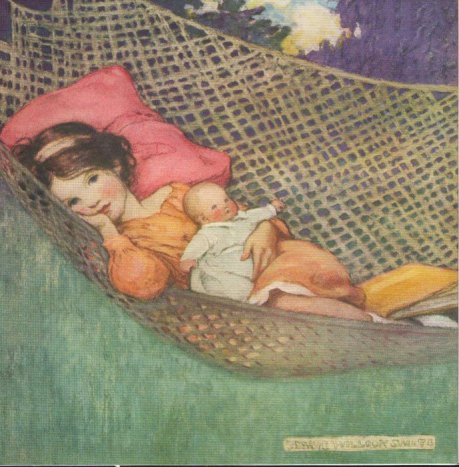 During her lifetime, Smith attained notoriety and wealth and lived an independent life, which for her time was remarkable.  She was an inspiration to women trying to make their own way in the world and left funds for her artist friends upon her death.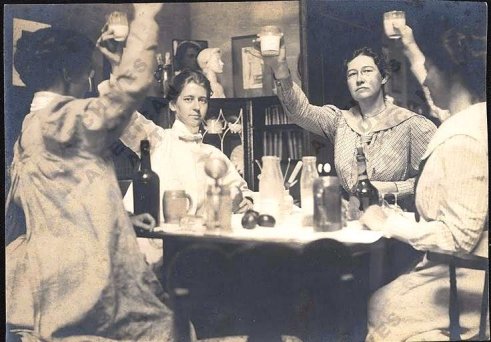 Pictured left are Violet Oakley, Jesse Willcox Smith and Elizabeth Shippen Green (with Henrietta Cozens). These three illustrators were known as the "Red Rose Girls".  They met while studying with Howard Pyle.  They became popular and successful illustrators in a man's world.  They first rented The Red Rose Cottage where they had studio and living space.  Their friend, Henrietta Cozens, tended to the gardens and housework while the artists churned out covers for the major periodicals, illustrated books and painted murals.  They liked to refer to themselves as the "COGS family"; the first letter of their last names. Eventually, they purchased their own compound "Cogslea", again with studio and living space.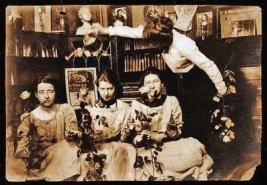 Violet Oakley, Jessie Willcox Smith, Elizabeth Shippen Green, with Henrietta Cozens "watering the roses".  These gals would have been great on Facebook! They're celebrating Oakley's commissioned poster in background, c 1901.
Following will be individual posts on each of the artists.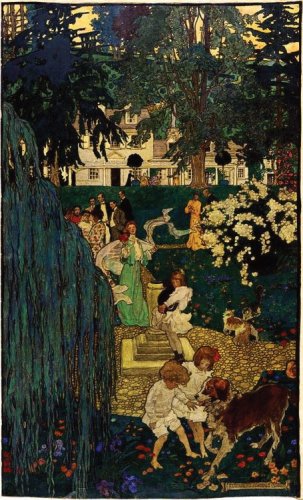 A rendition of the Red Rose Girls garden parties entitled Life was Made for Love and Cheer, by Elizabeth Shippen Green.  Harpers Magazine, 1904
/