Shopping Cart
Your Cart is Empty
There was an error with PayPal
Click here to try again
Thank you for your business!
You should be receiving an order confirmation from Paypal shortly.
Exit Shopping Cart
Unique, artistic gift bag and bottle tags, favors and ornaments
| | |
| --- | --- |
| Posted on September 1, 2013 at 3:50 PM | |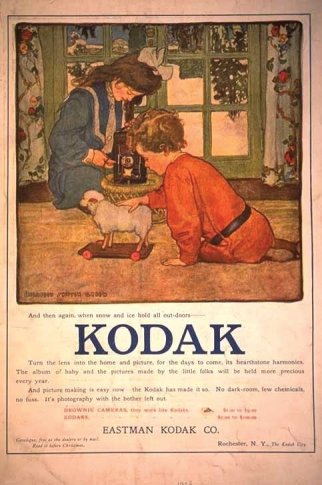 Elizabeth Shippen Green (1871-1954) was born in Philadelphia and encouraged in her artistic endeavors by her father who was an artist/correspondent during the Civil War. She studied with several painters and in 1894 found herself in Howard Pyle's class where she met Violet Oakley and Jessie Willcox Smith.  
She published her first drawing the in Philadelphia Times at the age of 18 while still studying with Pyle. While a student, she did pen and ink fashion drawings and other illustrations for children's books.  
For 14 years Green shared living and working space with the other Red Rose Girls, Jessie Willcox Smith and Violet Oakley.  She found the communal arrangement conducive to her artistic processes, with large living and work space, the encouragement of other artists and finding inspiration in the surrounding gardens and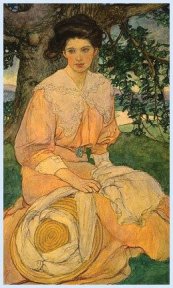 countryside.
Green's work has sometimes been compared to that of Mary Cassatt (1844-1926). In The Mistress of the house, a series of paintings commissioned by Harpers, she depicts a romanticized version of domestic life, featuring a beautiful young mother. However, during her career with Harpers, she was also called on to depict a number of different moods with characters in drarmatic situations.
Like her contemporaries, Green worked for all the major periodicals and illustrated numerous books.  Of the three Red Rose Girls, perhaps she was the least recognized in her own life time.  Perhaps this was due to the fact that she could not be easily categorized   Smith was known mostly for her depiction of children, Oakley for her murals and stained glass.  But Green was probably the most talented of the three.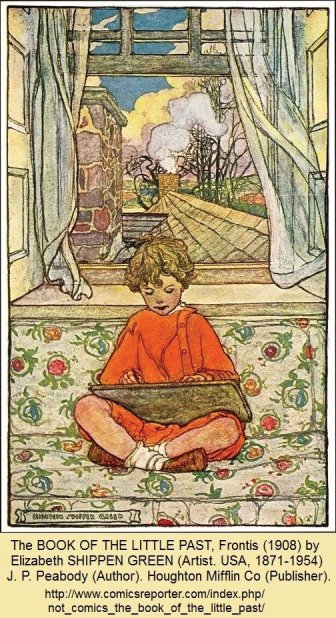 Green was the only one of the three illustrators to marry.
In 1911 she married Huger Elliott, a professor of architecture.  The couple moved several times for his teaching career but she continued to illustrate for Harpers as late as 1924. Following Elliot's death Green returned to Philadelphia to live near her old friends.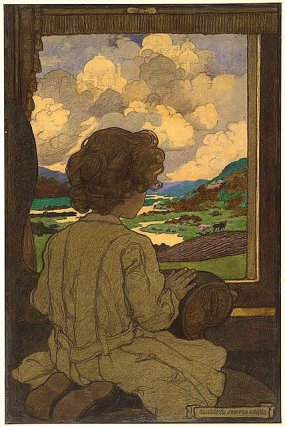 The next two illustrations are from "The Journey".  The boy in the rail car is subdued, while the colors outside the window are more vivid, creating an interesting perspective.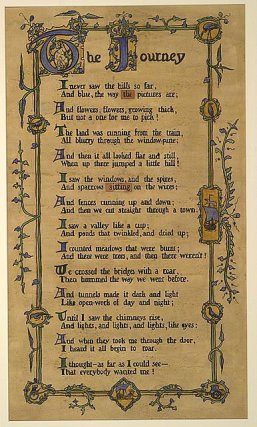 The verse was also illustrated by Green.
Categories: Illustrators of the Brandywine School
/